Interior Design…
Nevelli Designer Home Heating & Interiors have recently celebrated the re-launch of their business, alongside the official opening of their brand-new showroom. Introducing kitchens, bathrooms and all things interiors alongside their extensive range of designer radiators which remains the core of Nevelli.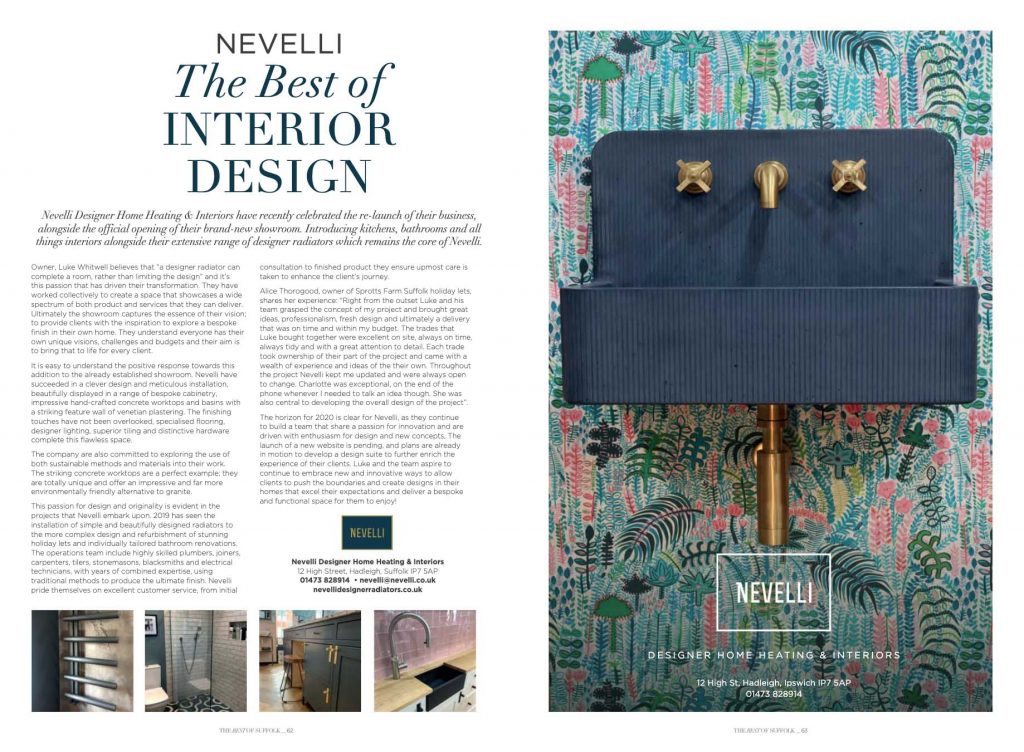 Radiators Can Complete a Room…
Owner, Luke Whitwell believes that "a designer radiator can complete a room, rather than limiting the design" and it's this passion that has driven their transformation. They have worked collectively to create a space that showcases a wide spectrum of both product and services that they can deliver. Ultimately the showroom captures the essence of their vision; to provide clients with the inspiration to explore a bespoke finish in their own home. They understand everyone has their own unique visions, challenges and budgets and their aim is to bring that to life for every client.
It is easy to understand the positive response towards this addition to the already established showroom. Nevelli have succeeded in a clever design and meticulous installation, beautifully displayed in a range of bespoke cabinetry, impressive hand-crafted concrete worktops and basins with a striking feature wall of venetian plastering. The finishing touches have not been overlooked, specialised flooring, designer lighting, superior tiling and distinctive hardware complete this flawless space.
Every Detail Matters…
The company are also committed to exploring the use of both sustainable methods and materials into their work. The striking concrete worktops are a perfect example; they are totally unique and offer an impressive and far more environmentally friendly alternative to granite.
This passion for design and originality is evident in the projects that Nevelli embark upon. 2019 has seen the installation of simple and beautifully designed radiators to the more complex design and refurbishment of stunning holiday lets and individually tailored bathroom renovations. The operations team include highly skilled plumbers, joiners, carpenters, tilers, stonemasons, blacksmiths and electrical technicians, with years of combined expertise, using traditional methods to produce the ultimate finish. Nevelli pride themselves on excellent customer service, from initial consultation to finished product they ensure upmost care is taken to enhance the client's journey.
Alice Thorogood, owner of Sprotts Farm Suffolk holiday lets, shares her experience:
'Right from the outset Luke and his team grasped the concept of my project and brought great ideas, professionalism, fresh design and ultimately a delivery that was on time and within my budget. The trades that Luke bought together were excellent on site, always on time, always tidy and with a great attention to detail. Each trade took ownership of their part of the project and came with a wealth of experience and ideas of the their own. Throughout the project Nevelli kept me updated and were always open to change. Charlotte was exceptional, on the end of the phone whenever I needed to talk an idea though. She was also central to developing the overall design of the project".